This page attempts to answer questions for the POLYHEDRAL SYSTEM in general, as well as for specific products.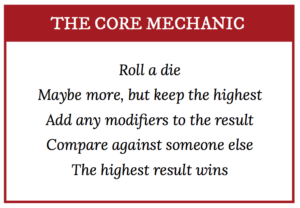 POLYHEDRAL SYSTEM
HOW ARE WOUND MODIFIERS APPLIED?
Modifiers from Wounds are only applied to the Attribute they belong to, providing a -1 for each Wound in that Attribute.
DO WOUNDS AFFECT INITIATIVE?
Yes. Wounds affect all rolls made with the Attribute they apply to, and this includes Initiative. So, if you have Wounds in both Body and Mind, you have to subtract them from the Initiative roll result.
DOES STRAIN AFFECT INITIATIVE?
Yes. Strain affects all Attribute rolls, no matter what. It's a measure of fatigue and tiredness, and stacks with Wounds.
CAN I LEARN TALENTS FROM OTHER PARTY MEMBERS?
Absolutely! If you're playing a Class that can learn from another Class' Talents lists and a party member has a Talent that you want to learn, as long as your character has the Brownie Points to pay for it at Level 1 and the other character is willing to teach it, then you're good to go!
POLYHEDRAL DUNGEON
WHY CAN MAGIC USERS USE SWORDS AND OTHER WEAPONS?
Because anyone can swing a sword or stick people with the pointy end of something. The difference is in doing something effectively. All of the other Classes (except Cleric and Magic User) gain the ability to improve combat skills in certain areas (and the Cleric starts off martial and with better ability to use weapons and armor).